This easy-to-use guide for caregiving instructs you how to:
Have the conversation
Navigate the emotional and spiritual journey
Give the best care possible
Control pain
Address symptoms
Work with hospice
Care for yourself!
Get your loved one's affairs in order
Understand the dying process
Go on living after the loss.
Chances are you will be a caregiver for someone at the end of their life. This blog provides resources, tips and stories to help you and your loved one through the journey.
Katie Ortlip received her nursing degree from Santa Barbara City College, and earned a BA in Psychology and Masters of Social Work at SUNY-Albany. She has spent the past 25 years working as a nurse and social worker for Asante Hospice in Southern Oregon.
---
Jahnna Beecham: Editor and contributing writer for National Geographic's Science Encyclopedia (2016). Author of more than 130 books for juveniles and young adults.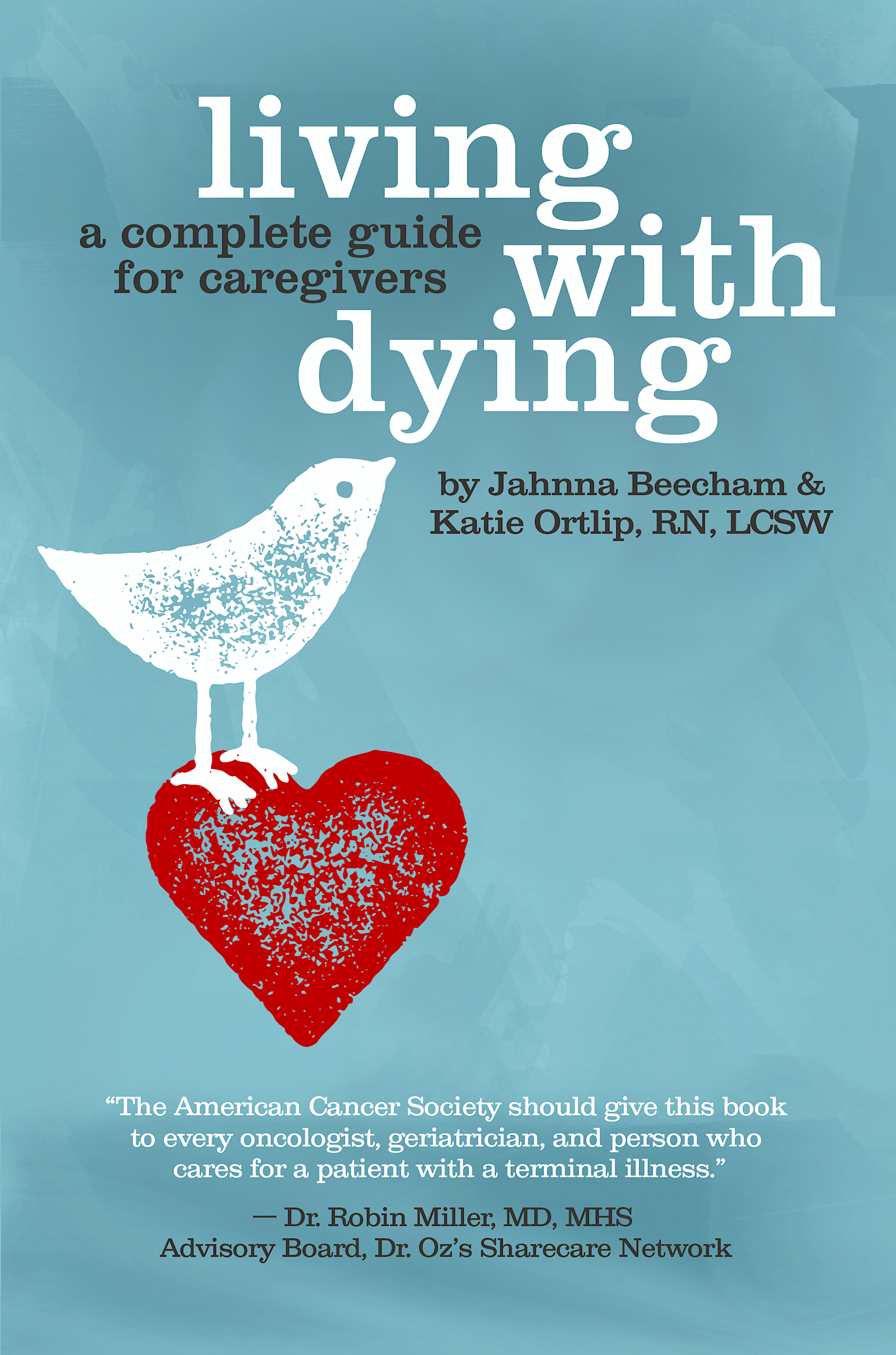 Reviews
"When losing a loved one, we are at a loss: How do we give care? How do we talk about it? How do we make business and financial plans? How do we face the final hours? This book is the one book we need: respectful, experiential, richly researched, joyful."
—Barbara Brownell Grogan,
former Editor-in-chief, National Geographic
---
"The American Cancer Society should give this book to every oncologist, geriatrician, and person who cares for a patient with a terminal illness."
—Dr. Robin Miller, MD, MHS
Advisory Board, Dr. Oz's Sharecare Network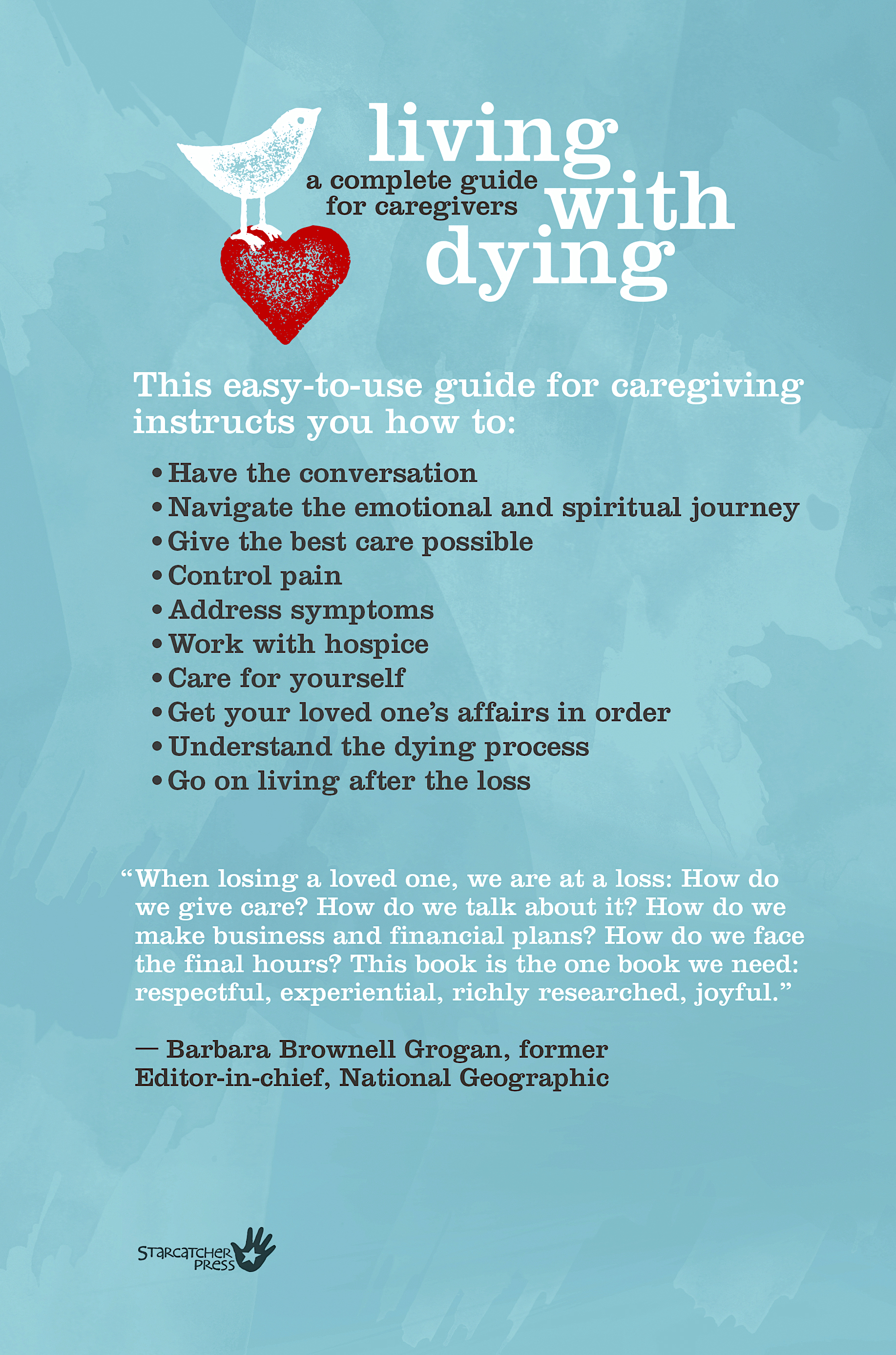 What the experts have to say:
---
"We absolutely love this book! It's hands-down the best caregiver guide book available. What a fantastic guide to managing caregiving responsibilities up to and through the end of life. Thank you for this amazing resource!"
—Helen Bauer & Jerry Fenter
Co-creators of The Heart of Hospice projects
theheartofhospice.com
---
"This may not be everyone's favorite topic, but nothing is truer than our time will surely come. If we mean what we say, that we and our loved ones wish to die at home, then this is exactly the sort of help we are grateful to receive. Thanks to Katie and Jahnna for making it available to us now."
—Ellen Waldman, Author and
Certified Aging Life Care Professional
"Aging Happens, One Year of Columns
from the Ashland Daily Tidings"
---
"Everything that you need to know about being a caregiver is in this book."
—Hellen Bauer, RN and Jerry Fenter, Chaplain
The Heart of Hospice
"For those approaching the end of life with a terminal illness, the many benefits of hospice and palliative care are now well known and widely accepted. However, many of those who actually provide such bedside care for dying persons (especially untrained family members) are inexperienced, fearful and overwhelmed by the gravity, the complexity and the many uncertainties of the process.
"Now, with this refreshing new book, Living With Dying: A Complete Guide for Caregivers, Katie Ortlip (a 25-year hospice caregiver/social worker) and her good friend and author Jahnna Beecham (a most talented and engaging story teller), have created a much needed, wonderfully simple, complete, practical and user-friendly guide . . . for anyone who would give the great gift of compassionate end of life care to those who matter most in their lives.
"Whether you are an inexperienced family member or a seasoned professional, I suspect you will find here an invaluable resource and a trusted companion as you journey through one of life's most challenging, and rewarding, opportunities."
                   —John Forsyth, M.D. Retired physician and volunteer/board member Southern Oregon Friends of Hospice
---
"I am so grateful for the opportunity of speaking with Jahnna and Katie, about their book, Living With Dying, and for the compassion and wisdom they shared around this beautiful mystery. This has been one of the most moving episodes for me."
—Lourdes Viado, Women In-Depth
---
What some of our readers have to say:
---
"I want to let you know that I think it is a wonderful accomplishment. I love how well it is organized, very easy to read, gets lots of info out with no wasted words, while at the same time going very deep in recognizing the spiritual and emotional needs of patients and care givers. I was amazed at the large scope it covers."  
"Thanks to you and Katie for writing Living With Dying. All I can say is I wish you had written that book years ago when I had my hands full of caregiving—early, and ongoing in my life. Even with all your welcome humor, it brought up a lot of stuff for me, having experienced all that you spoke about. Thank you though. I think your book is an important resource for those who are suddenly faced with caregiving and have no experience. For those of us who have had experience, your point about guilt and telling ourselves we did the best we could is very important."
—Paula Sendar, Oregon
"I am so extremely impressed with your interview with Lourdes Viado on Women In-Depth podcast. I have been honored to sit with several dear friends and clients as they transitioned, and this book would have been such a treasure for me. I will be purchasing it as soon as possible and sharing it with everyone."
—Dana Bailey
"When my father entered his decline and ultimately, his death I found many books on the subject—some helpful, some not—but none with this specific focus."
—Paul Mason Barnes, Oregon
"Having gone through this with two grandparents, this book would have been helpful."
—Brandy McClendon, Illinois
"I've referred over and over to this book just recently. It's a great resource. I showed it to our hospice nurse and she loved it. I highly recommend this well written work!"
—Rose Moothart Barnum
"I just wanted to let you know I love your book Living With Dying. I wish I had such a good resource when my parents were going through the dying process. Congrats to you—it is on my Kindle."
—Kenned MacIver
living with dying
a complete guide for caregivers
Available through Amazon Books and Amazon Kindle
The information on this site is not intended as a substitute for the medical advice of physicians. You should regularly consult a physician in matters relating to you or your loved one's health and particularly with respect to any symptoms that may require diagnosis or medical attention.